Chinmaya Mission Buffalo – Balavihar
Inspiring Children To Reach Their Maximum Potential
Chinmaya Bala Vihar curriculum includes various devotional, philosophical and ethical texts and topics, focusing in the early years on developing love for God, in the elementary years on learning and practicing value based living, and in the teenage years on understanding spirituality and fundamental Vedantic principles. The curriculum covers topics and texts from the Vedas, Puranas and Itihasas, taught in age-appropriate pedagogy. A typical curriculum includes: ABC of Vedanta, Ramayana, Introduction of Shrimad Bhagavad Gita, Shrimad Bhagavatam, Mahabharata, Symbolism in Hinduism, Hanuman Chalisa, India and Festivals of India, Values from Shrimad Bhagavad Gita and Ramacharitamanasa. Additional topics are developed and taught at the Chinmaya Bala Vihar camps.
Children between the ages of 2 – 4 years old are now under a program called  "Chinmaya Shishu Vihar" which is a parent and me class.  They have an extensive curriculum which explores one God per month. The children learn through story-telling, arts and crafts, yoga and many more fun activities!
The Chinmaya Bala Vihar curriculum covers Grades KG-12*. Students in grades 9-10 are also called "Junior CHYK." Students in grades 11-12 are also called "CHYK." Chinmaya Yuva Kendra – CHYK covers ages 17-28 years.
Group Hanumana: Kindergarten through 2nd Grade:

The ALPHABET Safari
We all know that 'A is for Apple' and 'B is for Boy,' but in Balavihar, the children learn that "A is for Aspiration, B is for Brotherhood, C is for Cleanliness," and so on. Simple, but fundamental, values are taught and emphasized through stories and coloring. The children are introduced to the wonder of Vedanta in an age appropriate manner through hands-on activities and demonstrations. They learn that just because something is not seen does not mean that it is not there. Therefore, our minds need to be focused to see the beauty within all of us.

Bala Rämäyana
Through the Ramayana, the world's oldest epic, Lord Rama teaches us the values of the perfect person. The children track the path of Lord Rama from childhood to marriage to exile to the war with Ravana, culminating in his crowning as King. Embedded in the story is so much symbolism. How are the 3 pairs of brothers in the Ramayana different? What attracts Vibhishana, Ravana's brother, to Lord Rama? Why is HanumanJi the greatest devotee, and how can we be like him? The children will amaze you with their deep appreciation of the glories of Lord Rama.

BALA BHAGAVATAM
Thousands of years ago, King Parikshit heard Shrimad Bhagavatam from Shukadev. Bhagavatam MahaPurana is considered to be among the purest of our scriptures since it invokes devotion to Lord Vishnu, through His incarnations. Bala Bhagavatam guides young minds through the stories of Lord Vishnu. They learn to own up to their actions and to ask for what they need and not what they always want. Even at this young age, the content from this class teaches the children what is meant by Dharma and how we can all live responsibly and meet our potential. Chinmaya Mission Pittsburgh – Balavihar 2015-2016 Academic Year Curriculum Overview Inspiring Children To Reach Their Maximum Potential.
Group Prahlada: Grade 3, 4 and 5:

Symbolism in Hinduism
What is a symbol and why do we have them? Why does Lord Ganesh have big ears and why does He travel on a mouse? Why does Lord Shiva have Mother Ganga flowing from His hair? Our scriptures are filled with hidden gems of knowledge, and these treasures are unlocked as children explore the deeper meaning behind all that they see in Hinduism. All these symbols are of the one Lord who pervades all and teaches us to live a life of harmony, fulfillment, and happiness. The children will be able to actually teach their parents about the meaning of our religion.
Group Dhruva: Grade 6, 7, 8:

P.o box Mr. God
In the first class, the children write a letter to God, but where should they mail it? What is His address? Where can we find God? This curriculum, based on Sri Tulasidasa's Ramacaritamanasa, teaches the children the various addresses of the Lord. It explains how we must live our lives to find Him. Through beautifully constructed activities and discussions, the children will be able to answer that fundamental question that we all ask – Where is God? In answering this question, the children also learn to begin to answer another common question – Who am I?

Hindu Culture
Our children, at this age, are often filled with anxiety about what the future holds. The message conveyed to children through this class is how they can live by Hindu Samskriti, or cultural tradition, to reduce the tensions of life. What are the Hindu Samskaras, and how are they based on the Vedas and Upanishads? In this class, the students learn that by living by these principles, they can accomplish the goals of life with confidence – academically, socially, and spiritually. This class illustrates to the students that an integrated way of life is the key to success and happiness.
Group Arjuna: Grade 9 and above: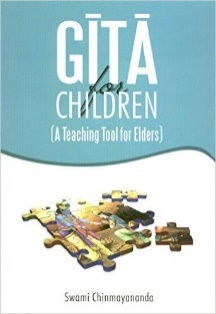 Gita
Prince Arjuna was the greatest of warriors, but when it came time to do his duty, he wavered. His strength, though, was his willingness to adapt. So, Lord Krishna teaches him through the Gita. We are Prince Arjuna, and in allowing the Gita to flow through us, we can transform ourselves. In this class, the young adults and adults begin a lifelong quest in understanding who they are, who God is, and the relationship between the two. This knowledge will be the foundation for their professional and spiritual goals. Is there a better gift to give to the future of humanity?
After listening to a spiritual discourse, or after reading a scriptural text, you may have questions that remain unanswered. You may have not studied or listened to any scriptural discourse, but you are wondering where does life take you from where you are and in what direction? You may not even appreciate the relevance of scriptural study in your daily life. You may have attended the lectures very religiously but you cannot remember anything that you heard from the teacher's mouth as relevant to you. The vehicle of Adults Satsang is designed to not only to bring intellectual knowledge to the earnest student, but also assure the student who is ready to put in the effort can indeed, learn the means for becoming more peaceful, happy, and integrated in one's life.